Old World Wine, In The New World!
It means that virtually all processes are done by hand, including Planting, Picking, Crushing, Bottling, Corking, and finally, Labelling.
It also means we use biodiesel fuel to run our tractors to reduce our environmental footprint, we recycle everything as best we can, and when we need to spray our vineyards, the materials are not synthetic nor petroleum based – they are organic!
Reimer Vineyards' Mission
At Reimer Vineyard, we are passionate about the better stuff in life. Located in the gorgeous green fields of Niagara-on-the-Lake, we specialize in creating first-rate wine at affordable prices.
Featuring quality, completely
organic wine
hand-crafted by award-winning winemaker Art Reimer, we specialize in creating a
variety of wines
, including:
Meet Winemaker Art Reimer!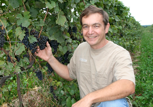 A man equally passionate about his organic vineyards and his award-winning wines! Art Reimer has been making wine on Lot 30 for over 30 years. What began as a hobby in the basement, has since matured to become award-winning amateur wines.
It was in the year 2000, when Art began to investigate going organic on the farm. After witnessing a number of older farmers with health problems related to the pesticides they had used throughout their lifetimes, Art decided it was time to find a better way to do things.
Dufferin Grove Organic Market
1st Thursday of each month from 3-7pm
Humber Bay Shores Farmers' market
Saturdays June 30, July 28, August 25, and September 22 from 9am-2pm
Scotia Plaza Farmers' Market
Wednesday July 18, August 8, 15 and 29 from 8am to 2:30pm
We are pleased to share Art's passion for winemaking with you! For more information, visit us or give us a call!